DSA driving practical test - Book Only for A# 2.49
Mood:
special
Topic: driving books
Pass your DSA driving practical test - Book Only for £ 2.49 - Fantastic lowest price deal
-Explained with The Highway Code rules
-Know what will be assessed on exam day
-What is expected and how you should do it?
-Graphic illustration of driving test manoeuvres
-Know why learners fail in the test
-Easy to follow tips and hints
-Fully illustrated, full colour graphics
-Includes DSA driver record - Check your readiness for the exam

This book covers
-Detailed advice and tips on how to improve key competencies necessary for safe driving
-Know what to expect on your driving test day
-Know how examiner will assess your performance
-Areas where you need to demonstrate consistent independent performance
-Why learners fail?
-Also includes drivers record
The record is based on the official learning to drive syllabus and lists all the skills you need to drive safely. It will help you to
-See how you are progressing and identify the skills that need more attention.
-Keep track of your progress and encourage you to become skilled in all the key areas.
-Prepare for your practical test and become a safer driver.
In full colour, glossy pages
Only for £ 2.49 - Fantastic lowest price deal
Click here to buy now
http://www.theory-test.co.uk/asp/product_list.asp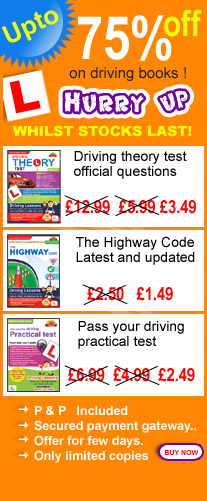 Posted by Jane Grath at 7:45 AM BST